Find Your Ideal Font with Free Font Finder
The Font Finder extension help users identify the font details used on any webpage. It allows users to easily check the font family, font size, font style, font weight, line height, and font color of any text on a webpage by simply hovering over it with the mouse and clicking on it.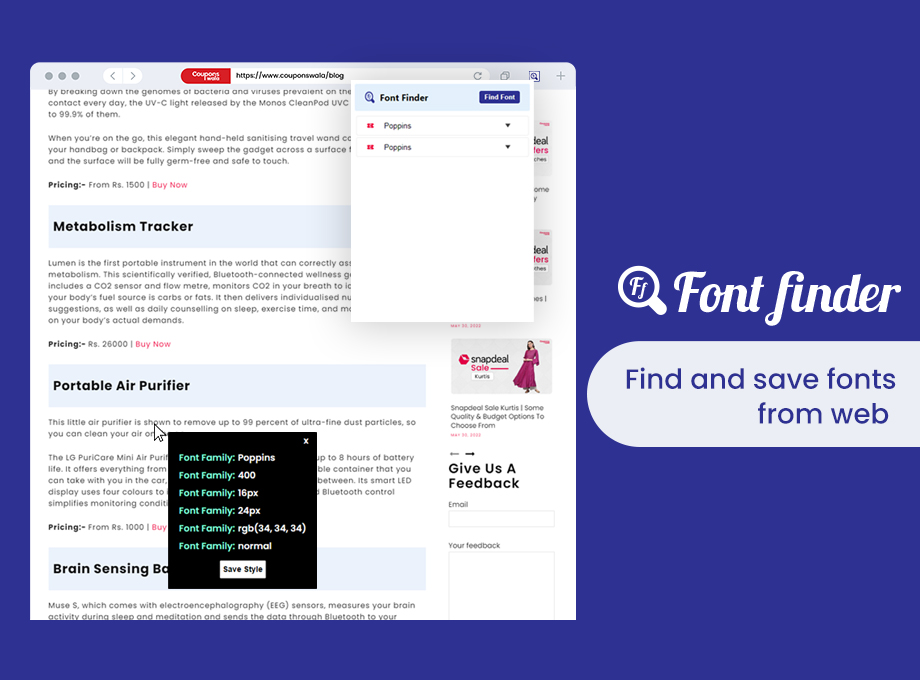 Key Features of Font Finder
Font Finder is a free and a powerful Chrome extension that helps web designers, typographers, and developers identify and analyze the font details of any webpage with ease. Here are some of the key features of Font Finder
Here's a step-by-step guide on how to use the Font Finder Chrome extension
I am a web designer, and I have been using the Font Finder Chrome extension for a few months now. I have to say, it is an amazing tool for identifying font details on any webpage.
As a typography enthusiast, I am always on the lookout for new fonts to use in my design projects. Font Finder has been a game-changer for me
Font Finder allows me to quickly and easily identify any font on a web page with just a few clicks
Frequently Asked Questions
These are the common questions and concerns that users have about font finder.
Yes, Font Finder is a free Chrome extension that you can install from the Chrome Web Store or from the Font Finder website. 
Yes, you can use Font Finder to find the font details of any webpage, as long as the text on the page is rendered using a font that is accessible by your browser
No, Font Finder is a Chrome extension that only works on the desktop version of the Chrome browser. It is not available for mobile devices. 
Get The Font Finder Chrome Extension Link On Email